History
August 2000 the club began with just over 50 people. Since then the club's annual active membership fluctuates between 200 – 400 people and nearly 3800 people have passed through the club (plus since 2018 non members who are part of the BeConnected program).
2002 we had a permanent home at Islington Public School (see above) in a heritage building with rooms for our computers as well as meetings. The Club started with only 4 men as tutors but now have over 40 volunteers (Male & Female) who are the backbone of the club. Our original training methods have improved considerably since our beginnings.
At the end of 2004 and the first quarter of 2005 we saw the arrival of new desks. Now the room looked professional and we received numerous compliments on the practicality and the appearance of the design. We had new computers and provided long and short courses in Windows 7 and Windows 8.1 as well as courses in Cloud Computing and using Tablets (iPad & Android) and a range of other relative courses deemed of interest to our members.
---
Australian Seniors Computer Clubs Association (ASCCA) conduct annual competitions Australia-wide for the many affiliated clubs in website design, newsletters, digital photography and creative writing.
Some Awards that have come our way
2010 – 1st Place in ASCCA Club Website Competition to ComputerPals Newcastle. Click HERE to see award. 2011 – ASSCA Champion Club Creative Writing – 1st Place ComputerPals for Seniors Newcastle Inc. 2011 – click HERE for a list of the awards received 2012 – Our club was the recipient of an Award for Organisations in Lifelong Learning at the NSW Seniors Week ACHIEVEMENT AWARDS CEREMONY. Click HERE to view award and click HERE for the presentation to Bruce and Lindsay. 2012 – Computerpals Newcastle's WriterPals won the national Grand Champion Award. Carmel Smith was awarded Grand Champion Writer at the presentation. 2013 – The big one went to Fred Schinkel with Highly Commended for his story "Out of the Blue", another for his poem "1914", First Place and top accolade for his poem "Glencoe" which was named as Best Poem of the Competition. 2014 Our Writerpals again did well: In Poetry – 3rd place, Poetry Seascape – Barbara Bartlett with "At Home", 2nd place, Fred Schinkel with "Sonnet on a Seascape", and 3rd place in Poetry No Escape – Carmel Smith with "No Escape". Then in Prose – He Who Laughs Last section – 3rd place – Barbara Bartlett with "Bennie", in the One Monday Morning section – 3rd place – Barbara Bartlett "Imagine", 1st place – Carmel Smith with "One Monday Morning", in the Make mine a…. section – Fred Schinkel with "Make Mine a Strawberry". Finally, Carmel Smith was awarded overall Best Story and Champion Writer, and Newcastle was announced the 2014 Champion Club. Click HERE to view awards Our Digipals members were also distinguished for their photography – 3rd place in Photo Journalism – Barry Keen with "Hanging in the Balance", and in the Creative Photography – Extreme Manipulation – Carolyne Keane with "Colour Wheel". Click HERE for the photography awards.
---
Some milestone years …..
2007
purchased new computers and flat screen monitors
new courses using Vista
expanded our range of "short courses"
planned additional social activities for members
visiting speakers presented topics
2008
installed a split system air conditioner
installed a hearing loop
formed a digital photography interest group DigiPals
2009
reviewed and improved course range
introduced courses using Office 2007
2010
triple booted computers in XP, Vista and Windows 7
Guest speakers explored new technologies ( iPad and the NBN )
10th Birthday Celebrations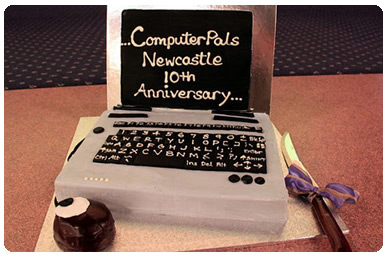 2011
purchased new computers and large LCD TV to assist with course presentations
arrangement with Domayne Kotara, presenting store workshops
Interest groups for Writers and Geneology. Special deals for ComputerPals members
2012
All computers and monitors updated to latest technology, capable of using Windows 8
Purchased laptop for Windows 8 demonstration
Another successful Christmas function
2013
Began implementing Windows 8 courses
Purchased larger TV for demonstrations for lessons
Retirement from tutoring and committee of long serving foundation member, past President and Education Officer Bruce Deitz. Click HERE to read Bruce's last report.
Changing technology created the need for our next special interest group – Tabpals for people with iPads and Android tablets and 'smart' phones
2014
Windows 8.1 was installed on all the classroom and laptop computers
New Website provider and Web Master had to be found. Welcome to our new Web Master, John Hendriks, who took over from retiring Bruce Carter in August.
Foundation member Bruce Dietz was presented with a plaque in recognition of his valued contribution over many years as Education Officer, Tutor, President and for the writing of numerous courses.
Introduction of Tablet courses and Cloud Computing courses
2015
We started the year keen to upgrade our club space, we wanted a kitchenette and toilet facilities in our building and pursued this. However the School Principal foreshadowed our time in the school rooms was limited and advised against such expenditure.
By mid year Microsoft had released Windows 10 and our attention moved to preparing to be able to give Windows 10 lessons.
Our esteemed President Elaine Butler had to resign due to family reasons and Lindsay Threadgate again took on the role at the AGM.
In October we were given notice that we needed to vacate our premises after 13 years at Islington Public School due to the schools student population growth. Luckily we were able to secure 'temporary' accommodation next door at 15 Hubbard St Islington.
2016
The Club started 2016 with much fanfare, we were in our new premises, which was a bit daunting with higher costs and adjusting to a new clubroom layout. We sought publicity through the media and engaged with Newcastle City Council. We had open days and got off to what we thought was a good start in our new premises.
Another big change with the Microsoft introduction of Windows 10 that was added to all our computers. Focus on courses is progressively moving towards tablets and phones, the introduction of a new interest group "Tabpals". 
In June 2016, our 'Interest Groups' underwent changes – Writerpals continued as it was, GeneaPals was discontinued or morphed into MemoryPals which included genealogy but was more… it encouraged members to record their memoirs, capture history by recording their experiences growing up, recording information about family memorabilia that may otherwise end up in the skip bin upon their passing if nothing was known about it. Scanning materials and old photos and photographing items and writing up why they were valued and part of their family history.
2017
Our members continued to shine in the ASCCA Writing and Photography Competitions.
The Club's finances started to decline as expected through the high cost of our rental although we were comfortable in the rooms we occupied. Car parking continues to be an issue for our members.
The teaching program was good but we were experiencing drop-off in attendance numbers (we determined this was largely due to cost). We ran some classes free of cost due to receiving a small grant from Newcastle City Council and while these were filled by people enrolling we experienced disappointment with some members not valuing our volunteers' time by simply failing to turn up. This was not wide-spread but caused us to re-think our approach and we introduced a fee of $5 on the sponsored classes so we could spread the grant money over a longer period and encourage members to value (their money and our volunteers' time) and this proved successful.
2018
We joined the Australian Seniors Computer Clubs Association (ASCCA) lead and partnered with Good Things Foundation in the Australian Government Grant initiative designed to help seniors 'get online' – the BeConnected program. We were successful in receiving grants which took the pressure off our finances and allowed us to re-price our courses down to $5 per 1½ hour session while, at the same time, run the BeConnected classes FREE of charge. These introductory classes are designed for people to work at their own pace in their own home (though we encouraged them to attend BeConnected classes for the added benefit of assistance from our volunteers, use of our equipment, and the friendly socially inclusive atmosphere we were able to provide). Webinars became available as part of the teaching scene. BeConnected learners were encouraged to take on more advanced learning in the club classes when they felt comfortable in doing so. It was proving to be a winning formula.
An Assistance Session for Laptop users was commenced in February and conducted on the 2nd Friday monthly. Members brought in their own laptops to get help with any issues they were experiencing.
In September, our Special Interest Group, TabPals was seen more as a support need for Phones and Tablets and so was taken out of the 'Interest Group' and run as an Assistance Session broken up to (iPhones & iPads in the morning) and (Android phone and tablets in the afternoons) on the 4th Friday of the month.
In October, we participated in Australia's first 'Get Online Week' event run by Good Things Foundation.
2019
This year saw us continue to be successful in obtaining BeConnected Grants to carry on the good work started in 2018. All of our computers had by now been converted over to the Windows 10 operating system and some of the grant monies had enabled the start of replacement of ageing equipment. We have engaged in an 'outreach' program at the Sugar Valley Leisure Estate at West Wallsend with the BeConnected program. All of our volunteers were recognised with the 2019 Newcastle Volunteers Award presented by Sharon Claydon MP (Federal Member for Newcastle).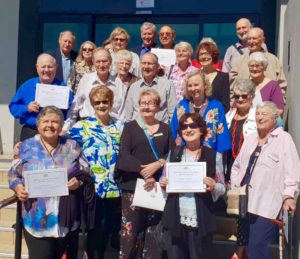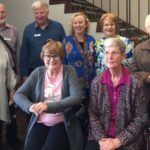 At this year's 'Get Online Week' events in October participants enjoyed learning how to negotiate public transport with Google maps and the NSW 'Opal Travel' App.
                              2020
With the help of a BeConnected grant and grant from Newcastle City Council we changed over our desktop computers for laptops and also purchased an all-in-one computer. Tutor computer screening to the 'big TV' for tutor display remained a desktop. Also purchased a new replacement projector for displaying on screen at hall meetings.
COVID19 happened and classroom classes were suspended from March 'til November. We learned how to use ZOOM as our platform to conduct classes online. AGM was deferred to August 2021. Committee meetings were conducted via ZOOM.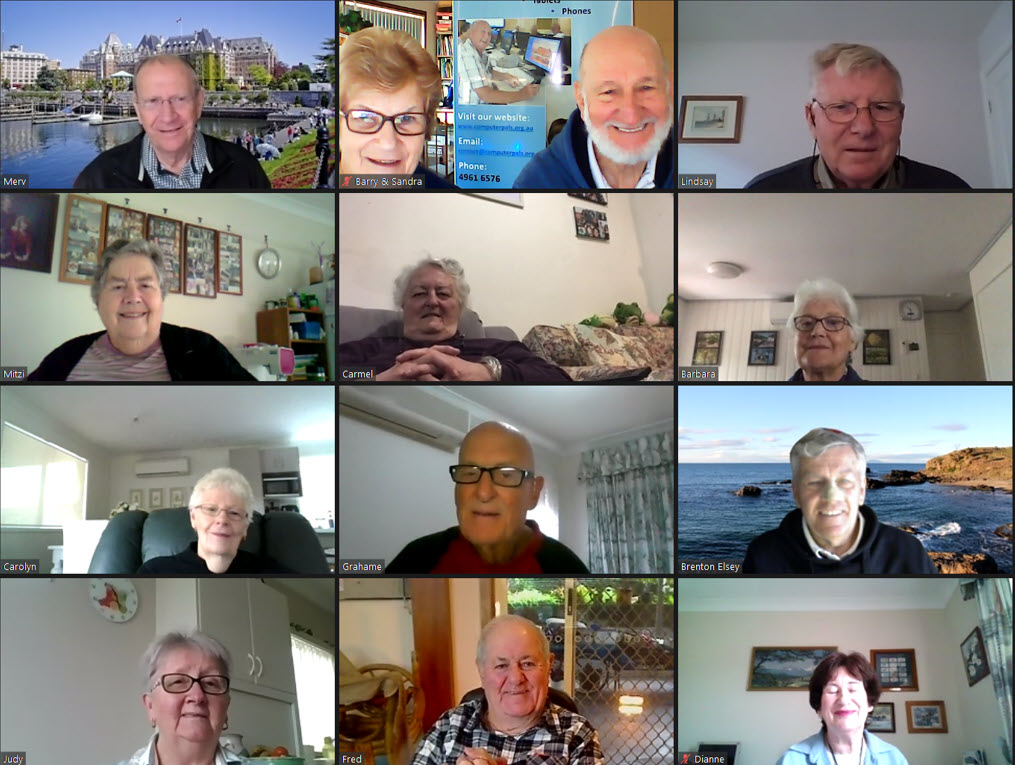 COVIDSAFE plans were implemented to keep our tutors and members safe when we resumed classes in the clubroom in November. Committee continued to meet via ZOOM along with Special Interest groups and there was a Friday Session on ZOOM for members who didn't feel safe coming back to the classroom just yet.
Social gatherings recommenced with outdoor car observation runs and a picnic in the park socially distanced.
2021
Copyright © 2022 ComputerPals for Seniors - Newcastle Inc. | Powered by ComputerPals Newcastle | All rights reserved.