COMPUTERPALS SOCIAL ACTIVITIES 2019
still to come ….. CHRISTMAS PARTY/LUNCH – 11:00 am FRIDAY 6/12  at Club MEX Mayfield
Our final social outing for 2019 was to Medowie Macadamias on Saturday 2nd November.
Established in 1980, Medowie Macadamias contains 5 varieties of nuts spread over some 12 acres. The current owners have been in charge for the past 13 years, and have steadily improved facilities to include a café, along with a shop
It was a great day out with 30 members and friends attending – starting with a very enjoyable breakfast then out under the shade of the Macadamia grove of trees where we given a talk on the history of the property and the process of growing macadamias.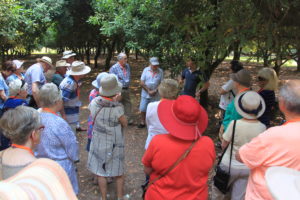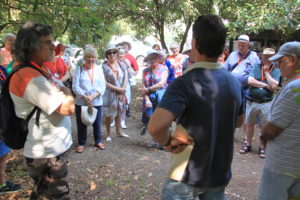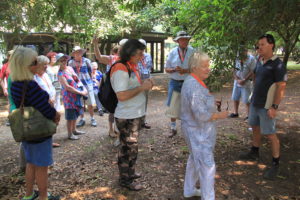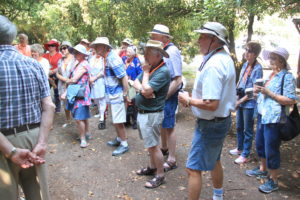 Friday 6th September, 2019 – All of our volunteers received an invitation from Sharon Claydon MP to receive recognition in the 2019 Newcastle Volunteers Awards.
Congratulations everyone – well deserved!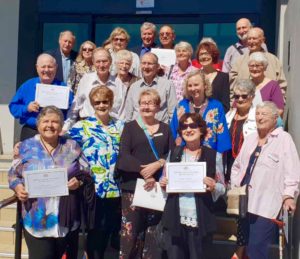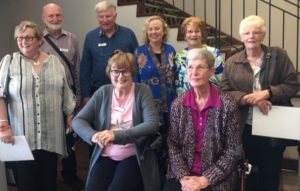 Saturday 24th August, 2019 – Social Day Out – to Maitland Regional Art Gallery
Twelve members and partners enjoyed morning tea before viewing the excellent current exhibition in the refurbished historic building.
Most stayed on for lunch at the very popular Gallery Restaurant.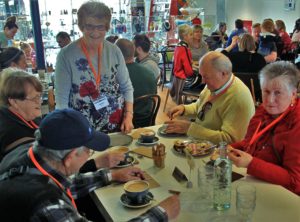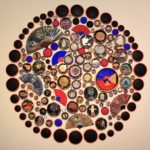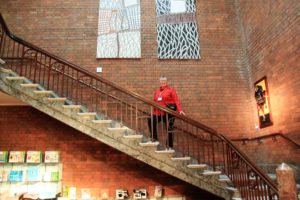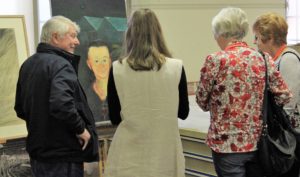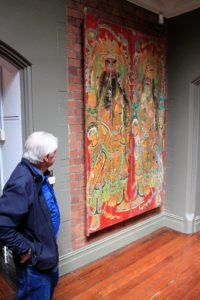 Friday 16th August, 2019 – AGM & lunch
Was held at Cardiff RSL Club.
Monday 3rd June, 2019 – Members Morning Tea
Olivia Paterson & Elizabeth Curran from Service NSW, Wallsend were our guest speakers at our Members Morning Tea.
They informed us about the Service NSW website and what you can do online. How you can access NSW Government services. (e.g. Vehicle Registration, Drivers Licence, Cost of Living savings …. the list of services goes on). There were many questions from the floor and it was all very informative.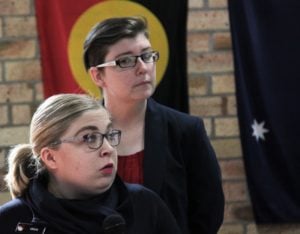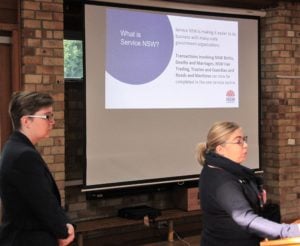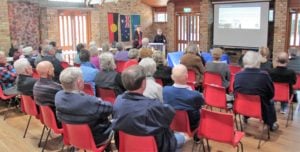 ---
Social Day Out – Saturday 18th May – Rail Motor Society at Paterson
A fine day beckoned on Saturday 18th as 16 members paid a visit to The Rail Motor Society, Paterson.
After a scenic drive through the rolling countryside, members met up at the old Station Master's Cottage which today houses some railway memorabilia and doubles as the Society's headquarters. First up was a ride in the historic CPH Rail Motors out to Wallarobba and return. These units were built in the 1920's for use on the NSW branch lines and provided sterling service for over 60 years before being retired from active service. Given the age of these trains, their condition and running was a tribute to the expertise and dedication of the volunteer workforce entrusted with preserving this area of railway heritage. 
Back on the ground, it was up to the Cottage where tea, coffee and hot dogs provided much needed sustenance before a tour of the depot. Inspection of additional Rail Motors, the workshop area and some old railway carriages being meticulously restored rounded out a very interesting and enjoyable day. Several members showed further interest in the operations of The Society, as they operate numerous shuttles, trips and tours throughout the year – well worth consideration.
My sincere thanks to Lindsay Threadgate for supervising our group, as being a member of The Rail Motor Society, I was on duty there on the day.
Brenton Elsey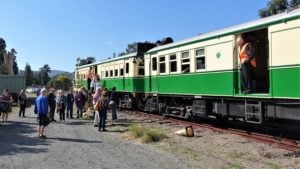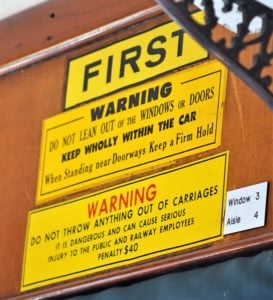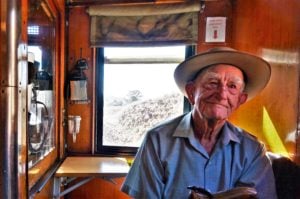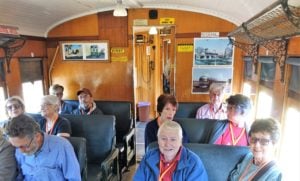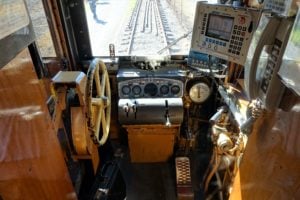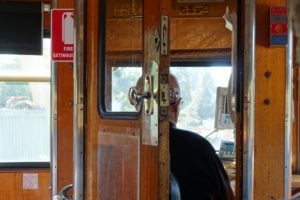 ---
Morning TeaMonday 18th  March dawned grey and drizzly for our Morning Tea, held as usual in the school hall adjacent to our premises.
With a pleasing roll-up of some 50 odd members, President Sandra Keen commenced proceedings with an update of Club news and information, highlighting our upcoming classes and courses especially for new members. Special mention was made of the Be-Connected online assistance available for members to participate in rather than just listen, and also the importance of signing in when commencing a 'lesson'. Next, our special guest speaker was Wendy Birrell from Roads & Maritime Services, who gave an excellent presentation of Road Safety for Seniors and the Light Rail. The last trams in Newcastle were withdrawn from service in 1950, so only a handful of us who lived in the area then would have seen them. Wendy highlighted the need to learn and understand the rules and safety measures taken to ensure a smooth transition to the integration of the light rail with motor vehicles and pedestrians. With these shiny new red and white trams running silently, it is most important to stay alert and keep a lookout when in the area and be aware of the additional traffic signals enabling safe crossing for pedestrians, not forgetting the 40 kph speed limit throughout the length of the tramway. Judging by the numerous questions asked showed this presentation was well received and timely for those in attendance.

With a 'caffeine fix' needed, morning tea was then called, enabling members to share a cuppa and a yarn with those present.
---
NSW Art Gallery in Sydney on Saturday 23rd February 2019
A small contingent of members travelled to Sydney for a visit to the NSW Art Gallery.
Following the train trip to Central, we were met by Elaine Butler (ex C'Pals President and now Sydney resident) and current member Barbara Bartlett who was down there visiting her daughter and family. Following the obligatory comfort stop, we adjourned to the brand new Eternity café at Central Station where one and all marvelled at the transformation and improvements to a 'foodie stop' at this location. Next, we proceeded by train and a walk to the Art Gallery.
This magnificent structure has stood the test of time, and the grandeur of the façade is matched by the impressive display halls, while the static and travelling exhibits offer something for all tastes in art. One of the main attractions was the travelling exhibit 'Masters of Modern Art' which was recommended to us by one of our members who had seen it while overseas. Organised tours were conducted for this and a few other exhibits, while some chose to wander around at their leisure to study the various art pieces on display. Culturally nourished, we then met up at the Art Gallery café for lunch, with much discussion on the merits (or otherwise?) of the various displays.
At this point, some members chose to stay on a while, while the majority mustered the energy for the trip home, farewelling Elaine and Barbara at the station prior to our return train trip.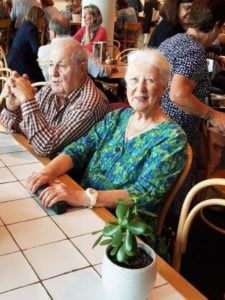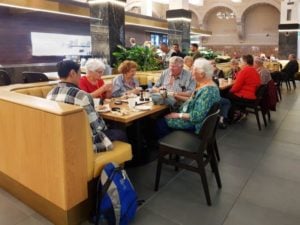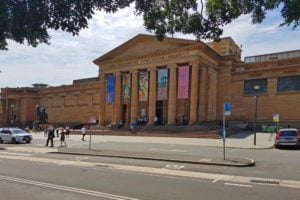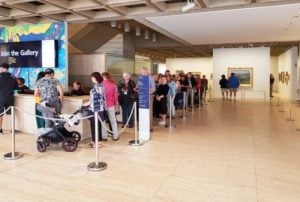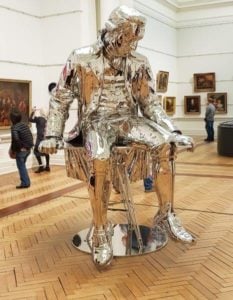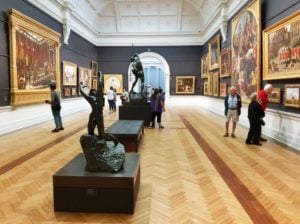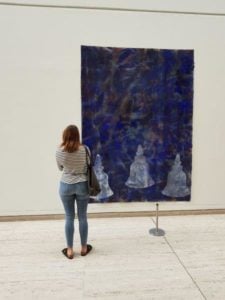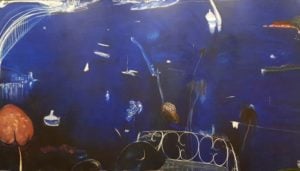 Our next excursion on Saturday 18th May will be a trip to Paterson for a visit to the Rail Motor Society, an organisation entrusted with the ongoing preservation of these Heritage grand old rail motors, some of which have seen their 90th birthdays! Here, we will inspect the small museum within the old Station Master's cottage, partake in a tour of the depot where all the restoration and servicing of these trains is carried out and enjoy a ride on one of these rail motors (or 'Tin Hares' as they were fondly termed). We will have more details a little closer to the time.
ACTIVITIES WE ENJOYED IN 2018
7th December – Christmas Lunch
Ho Ho Ho ! 
Our member's Christmas lunch was held on Friday 7th December at the Mayfield Ex-Services Club with some 61 participants.
Of additional interest this year was the announcement of the section winners of our own Club's Writing and Photography competitions. Following ASSCA's cancellation of their national competitions, our own Barry Keen took the initiative and was the driving force behind our own competitions to which our neighbouring clubs were invited to participate – well done, Barry. A high standard of entries in both competitions was 'heard and seen', with the winners receiving certificates. President Sandra Keen briefly outlined Club activities, along with the need to push for more participation in the 'Be Connected' scheme through which our Club received a substantial grant – much needed and put to good use.
With a slight dose of hunger pains amongst those present, it was time for members to select their favourite dishes and enjoy each others' company prior to the Christmas/New Year break. A great time was had by all, creating a happy conclusion to the ComputerPals 2018 year.   
---
Friday 16th November saw our intrepid group of nineteen members off to enjoy the morning out at Mortel Sheepskin Factory at Thornton where we enjoyed a lovely morning tea/coffee & scones
then a quick visit to the shop before our conducted tour over the factory which proved very interesting. A great day out!
---
Monday 15th October 2018 – Members Morning Tea & #Try1Thing as part of Get Online Week
40 members and visitors met in the Islington School Hall to enjoy some fun exercises as part of Get Online Week. All enjoyed the morning tea.
---
AGM/Lunch
Our member's Annual AGM and Lunch was held on Friday 10th August at the Cardiff RSL Club, with 34 members attending.
Following the usual welcome to members and guests by outgoing President Sandra Keen and annual reports by the various committee members, it was then time for the Returning Officer to declare all committee positions vacant and called for nominations for all these positions. Sandra Keen was re-elected President, along with Merv Pope filling the Vice President role and Grahame King as Treasurer. All other Committee positions were filled with no changes to the outgoing committee members.
Formalities over, it was then time to sample the culinary delights of the Club eatery and enjoy a chinwag with fellow members.
---
Sunday 19th August 2018 – "Lost in the 50's" Museum, Cameron Park
Sunday 19th August saw a cold but sunny day and a large crowd of interested people to greet 18 members at the entrance to the 'Lost In The 50's' Museum at Cameron Park.
This museum has housed a private collection of 'all things American' through the 50's (and 60's) and is closing the doors next month, the owners stating that they feel it is the right time for a break. The usual array of immaculately prepared motor vehicles was on display, resplendent in chrome and glass and with a variety of colours and finishes. Also featured was a mock-up of a period café/milk bar including fittings and signs, numerous glass cabinets containing a wide range of model cars, signs, old radios, petrol pumps and a whole host of various memorabilia pertaining to that period. Tin signs and posters were prevalent everywhere, along with life sized models of Elvis, The Rat Pack and café staff. An old caravan, bicycles and toy pedal cars for the young ones were on display – in fact, there wasn't much else one could think of that was missing from this wonderful collection. Outside, several classic and vintage car clubs presented some of their best, while the coffee and food outlets did a roaring trade.
After viewing the offering, the group headed for a seat and some refreshments before disbanding and heading for home.
---
Morning Tea/General Meeting held on Monday 18th June, a very cold and wet day on which some 35 members braved the elements to attend – an excellent response given the weather prevailing.
President Sandra Keen opened the meeting with a general overview of the Club's activities and current financial situation. This was followed by a very detailed and informative Powerpoint presentation by Lindsay Threadgate, highlighting our financial status and the very real need for the Club to find a new base and change the way it operates – well done Lindsay for the time and effort in putting it together.
Morning tea followed, with a welcome addition of some hot finger food, along with the usual array of biscuits etc.
Our guest speaker for the day was Michelle Pirie, who lightened the tone of the meeting with some 'Chair Yoga'. Everyone participated in this fun exercise routine that would prove helpful for stiff necks and sore backs when using a computer for lengthy periods. Anyone wanting follow-up yoga with Michelle can contact her on 0400 790 479
With many members assisting, pack up for the day was swift, so a big thank you.
---
FRIDAY 15th June 2018 Saw 15 members visit The Mint and Hyde Park Barracks in Sydney. It was a thoroughly enjoyable day.
After a brisk walk across open spaces, we arrived at The Mint where a hot coffee and some nibbles settled everyone for the exploration ahead. One of Sydney's oldest buildings showed some interesting artefacts and beautifully crafted models depicting times past. On to the Hyde Park Barracks next door, where 3 stories of colonial history were documented in an excellent and descriptive manner. It didn't take long for one to realise just how tough life must have been 'back in the day'. With the odd creaking knees from up and down the many steps, lunch at The Bakery inside the Barracks grounds was a most welcome agenda to the day's outing.
---
Members Morning Tea – Monday 9th April 
Jenny Samuels from Seniors Rights Services spoke on Seniors Rights in different types of Retirement Accommodation/strata units or townhouses and their Service will advise in dispute situations.
Also spoke on Seniors Abuse, need for Will/Power of Attorney/Enduring Guardianship.
Their support service is free – covers – Legal/Advocacy/Education.
Phone: 1800 424 079 (speak to a real person) – website: www.seniorsrightsservice.org.au
---
An adventurous group of 15 participants set out on Saturday 3rd March for our trip to Dangar Island.   
An early train ride to Hawkesbury River/Brooklyn saw us board the local ferry service to our destination. With our friendly and informative skipper, Matt, at the helm and a warm sunny day ahead, a most enjoyable trip ensued, culminating in a group photo on the island's wharf. With a single-minded caffeine fix required, we made our way to the island's general store/café set on the water's edge adjacent to the wharf. Here, the friendly staff saw to our needs prior to our exploration of the island.
While the map was flat, the terrain certainly wasn't. A line of wheelbarrows near the wharf are basically the only means for the locals to cart the shopping home, where, apart from a few living by the water, most houses are built on the side of very steep terrain. Indeed, some even had a miniature 'scenic railway' to haul their assorted items up from the tracks (read streets or roads in mainland speak!). The answer to several 'seedy' locals was the island's 'Dangardegras' (Mardi Gras?) held the previous night, evidenced by the many rainbow flags and the odd party masks visible. Time to return to Brooklyn, with the ferry ride enabling the 'huffers and puffers' to catch their breath prior to fish and chips by the river and the train home.
---