---
For information contact us – click >>> by email,
or our mobile # 0478 219 220  by text (SMS), or voice call (during business hours Mon-Fri). Phone calls will probably go to voice mail – please leave your name & phone number & the subject you want to talk about – we will get back to you ASAP.
---
Term 3 ends on 22 September.
Watch this space for information about classes in Term 4 (which starts 10 October)
We look forward to seeing you for BeConnected classes.
BeConnected classes are free.
*

Mondays

– Club Lambton (51 Karoola Rd Lambton) 10:00 – 11:30 am.
Computerpals club classes & special interest groups run in the afternoon 1:00 – 2:30 pm
*
Tuesdays

– Wallsend Library (30 Bunn St Wallsend) – 10:00 – 11:30 am
*

Wednesdays

–  Hamilton Library (45 James St Hamilton) 10:00 – 11:30 am.
*

Thursdays

– online with Zoom 10:00 – 11:30 am.
Topics for the next week are invited at the end of each session.
There is always a Question & Answer session.
These sessions are great for distance learners and a social opportunity for anyone feeling isolated.
Check your email for the link or contact us by phone or email (see the top of this page)
Term 3 Zoom fee is $10 and covers the whole Term – reference on your payment is: your name #16 Zoom fee
---
The classes for weeks of  9 & 10 of Term 3 are listed below.
If you intend to attend, you need to enrol. CLICK HERE for the enrolment form. BeConnected classes are free.
Don't forget to write down the dates you propose to attend in your calendar or diary.
---
The vast majority of people are now double vaccinated and some have had their booster. This reduces the chance of being seriously affected by COVID-19. You can still catch COVID-19 (one of the variants) – here are ways you can minimise your chance of contracting it:
Observe good hand hygiene

Practice social distancing

Keep interactions with parties outside your family and friends brief

Wear a mask in the high-risk situations identified by the government
As a courtesy to our volunteer tutors who are donating their time, and petrol to attend our training venues, I ask that anyone who wants to attend a class phone, SMS (text), or email with their registration request. Also, when registered and for whatever reason, if they are unable to attend, they also contact us and let us know.
Compliance with this request will be appreciated.
---
Joining a Zoom session for the First Time
Click Here for a rundown on the 'How to' by BeConnected.
Click Here for a print copy of the instructions.
---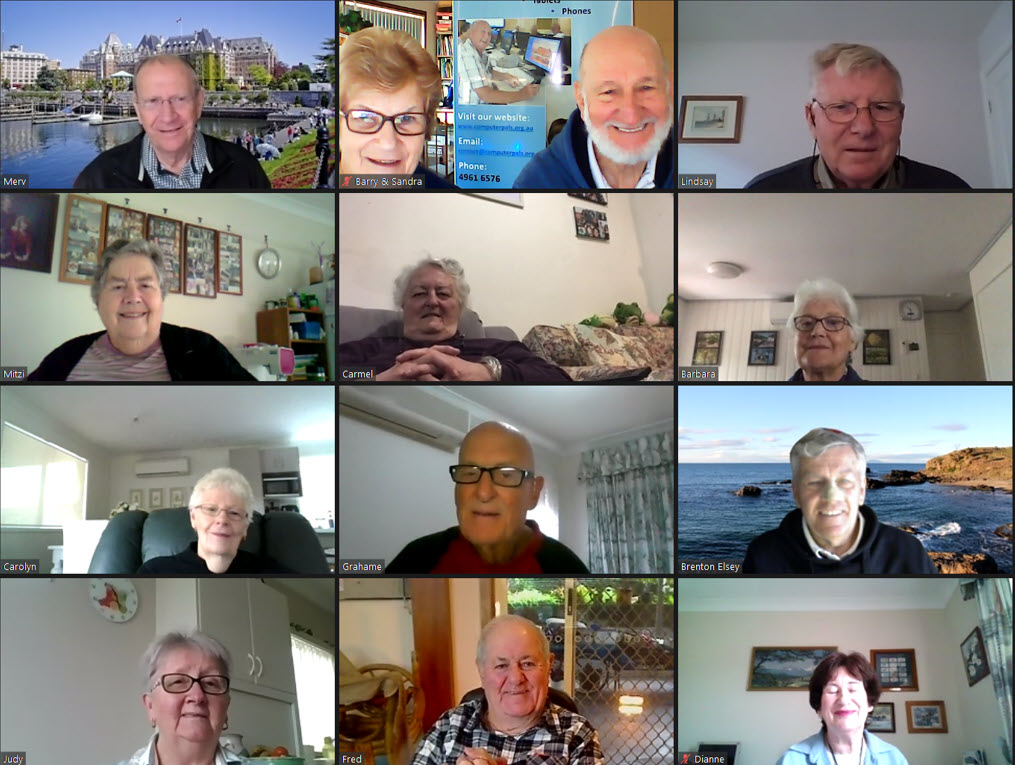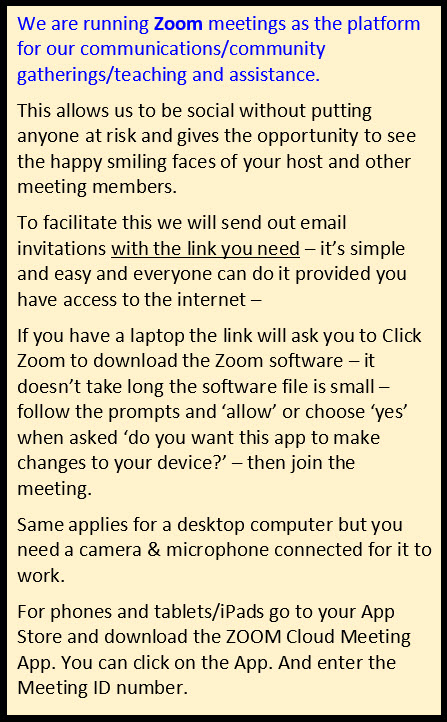 ---
We are now a registered Charity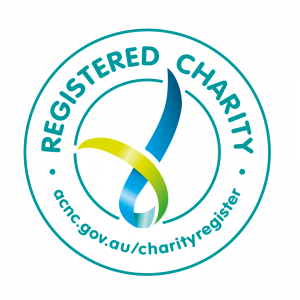 What does that mean?
The club is eligible for GST Concession and Income Tax Exemption.
Unfortunately, we have not received Designated Gift Recipient Status –
in other words, sadly – donations to the club are NOT tax-deductible.
---
Want to catch up with us on Facebook?    CLICK HERE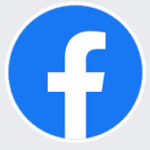 ---
Who Provides Our Training?
Tutoring & Mentoring is provided by a band of volunteers, prepared to share their knowledge and give their time, so that we can provide training at minimum cost. Being a member of ASCCA ( Australian Seniors Computer Clubs Association ), we have access to ASCCA's resources and links to other Seniors' Computing Clubs throughout Australia. If you would like to become involved as a tutor, or if you know someone who has the skills but is not yet a member, please contact our Tutor Coordinator.
---
ComputerPals Mission
Our mission is to educate seniors on the use of computers and other technology (phones & tablets) as a way of enriching their lives and making them more self-reliant. We bridge the generation gap and assist seniors to find ways to benefit themselves and the community through their collective experience and knowledge.
---
Are You OK?
We are aware of the challenges of keeping our own energy levels up as COVID goes from a sprint to a marathon, and we're sure many of you feel likewise. While the media headlines are focused on case numbers and community transmissions, we shouldn't forget the hidden toll this pandemic is having on the collective mental health in our communities. It is more important than ever to look out for ourselves and each other, and as a club, we will continue to explore ways to make sure we're playing our part and providing the support that's needed.
---
At the AGM on Friday 5 August, 2022 the following people were elected to the Committee for 2022-23:
President – Barry Keen
Vice President – Jackie Lampe
Secretary – Wendy Smith
Treasurer – Grahame King
Committee members – Brenton Elsey, Mitzi Gordon, Denise Hayes, Ray Hinton, Sandra Keen, Fred Neal, Margie Olsen, Merv Pope, Carmel Smith, Lindsay Threadgate (Public Officer), Judy Wallace
---


Membership is encouraged but not mandatory for people engaged

only

in Be Connected sessions.
---
Be Connected – What is it?
Be Connected is an Australia-wide Federal Government initiative empowering all Australians to thrive in a digital world. There are online learning resources as well as a network of community partners – the Be Connected Network – who offer in-person support so you can develop your digital skills and confidence.
ComputerPals for Seniors – Newcastle Inc. is a Be Connected Network Partner and we are here to help you.

Be Connected classes are FREE
If you have a need to develop skills to use a computer/tablet or smartphone – these classes are for you. The training is offered in small groups to allow personalised learning and one-on-one coaching. Phone 0478 219 220 (This will probably go to a voice mail – please leave your name & phone number – we will get back to you ASAP), alternatively send a text message (SMS) to enrol in the program through us and get our support.
CLICK HERE for the Be Connected website for more information. Then scroll down for an introductory video.
One of the Be Connected courses…
Smart homes
There are many different ways modern technology can help us in our daily lives. From voice-controlled smart speakers to making the family tv display content from your smartphone, our new courses look at what gadgets are available, how they work, and how to use them safely.
Some other examples of topics…
Introduction to online banking

Introduction to mobile banking

Introduction to myGov

Introduction to buying and selling online

Social media apps

Online hobbies
and there are many more…
---
Can you spot a scam?
Join our 1-hour webinar to learn
Common scams including the latest Tax and Medicare scams

Tips on how to spot them

What to do and what not to do

Where to go for help
Dates:
8 November 11 – 12pm AEDT

Despite the reduction of Health Dept rules regarding the coronavirus outbreak, you may choose to continue to physically isolate yourself from other people. However, it's vital to stay in touch with friends and family for your mental wellbeing.
You can make video calls, send typed or instant messages, and share photos and written updates with your friends on social media services. Being in touch with friends and family will help you to stay connected and feel less isolated.
Join our 1-hour webinar to learn
How to set up for video calling

How to use Skype

How to use WhatsApp

How to use FaceTime
Dates:
22 November 10 – 11 am AEDT

With the increasing popularity of smart home technology in Australia, you may have already heard the term 'smart home' but wondered exactly what it is and how it works. We will introduce you to the benefits of smart homes, tell you what you need to set one up, and how to protect your privacy and safety while enjoying all the convenience this technology brings.
Join our 1-hour webinar to learn
The benefits of smart home technology

What you need to set up a smart home

How a voice assistant works

How to protect your information and keep yourself safe
Dates:
22 September 3 – 4 pm AEST

With over 2 billion daily active users, Facebook is the world's most popular social networking site. It helps people stay connected, especially when they're in different parts of the world. In this webinar, we will explore how when used with proper care, Facebook can be an enjoyable source of entertainment and a great way to connect with others.
Join our 1-hour webinar to learn
What you can do on Facebook

How to take control of your privacy settings

Common scams on Facebook

How advertising works on Facebook
Dates:
10 November 3 – 4 pm AEDT

---
For many Australians, a connected lifestyle includes the convenience of online shopping and banking, however, privacy and security concerns can stop those who aren't as confident online from enjoying the same experience.
Join our 1-hour webinar to learn
The benefits of shopping and banking online

How to safely shop and pay for things online

How to do everyday banking safely online

What to look out for
Dates:
11 October 11.30 – 12.30 pm AEDT

---
Advanced online security
These exciting new courses introduce you to advanced ways of protecting your privacy and personal information online. Discover how to manage your passwords with a Password manager and install antivirus software to protect your devices from viruses and other malicious threats. You'll also learn some other top tips for keeping you safer online.
---

---





>>>
Copyright © 2022 ComputerPals for Seniors - Newcastle Inc. | Powered by ComputerPals Newcastle | All rights reserved.