---
For information contact us by email or phone 02 4961 6576 (during business hours). This will probably go to a voice mail – please leave your name & phone number & the subject you want to talk about – we will get back to you ASAP.
---
2020 Classes in the clubroom were suspended in March – due to covid-19 virus precautions.
BUT NOW WE'RE ON THE WAY BACK
….. starting with an Open Day on 2nd November…..
             9:30 to 12:00 pm in the clubroom. 
IMPORTANT – staggered enrolment – phone 4961 6576 for an appointment, so we can meet COVID social distancing requirements and ensure your safety.
Meantime, we are running online ZOOM classes on Wednesday, Thursday and Friday mornings starting at 10:00 am.
That will change from the beginning of November.
ZOOM CLASSES will be run only on Friday mornings for those people who are not yet ready to return to the clubroom. Check your email or send an email to us and enquire what is coming up and how to join our sessions. We may be able to assist individuals or groups on other days if a need is made evident. You will need to tell us of your preference.
Because we going back to paying full rent on our clubroom and course fees there will not cover costs it has been decided to charge a $10 once a Term fee to register for ZOOM classes to help keep us afloat.
A Clubroom class schedule is available here where you can zoom in (enlarge) or download or print it
---
Are You OK?
We are aware of the challenges of keeping our own energy levels up as COVID goes from a sprint to a marathon, and we're sure many of you feel likewise. While the media headlines are focused on case numbers and community transmissions, we shouldn't forget the hidden toll this pandemic is having on the collective mental health in our communities. It is more important than ever to look out for ourselves and each other, and as a club, we will continue to explore ways to make sure we're playing our part and providing the support that's needed.
---
Joining a Zoom Call for the First Time; Fun and Easy Online Connection
Click on the link below for a YouTube video that explains Zoom Meetings

https://www.youtube.com/watch?v=9isp3qPeQ0E
---
HERE IS A PODCAST (OR VODCAST) FOR YOU TO WATCH
On today's podcast (13/06/2020) Leonie Smith (The Cyber Safety Lady) and Nan Bosler  –  chat about how seniors are doing online? During this pandemic, what are the clear disadvantages and advantages that our seniors are experiencing online and how are they coping with shopping, banking, and communication and keeping in touch while they are apart from loved ones.
To hear more on the aspect of the NBN and ASCCA click on the picture below and watch the video or (Click on the link below).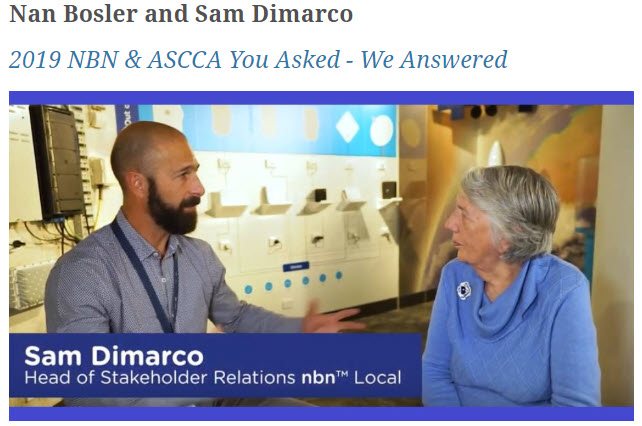 Digital Families Vodcast with Nan Bosler AM "Seniors Online" During the pandemic. (this is viewed on YouTube)
---
Are you new to ComputerPals?
You may have heard us refer to ASCCA and wondered what we meant.
ASCCA is short for Australian Seniors Computer Clubs Association.
They are a 'peak body' that helps affiliated computer clubs from around Australia in a variety of ways.
ASCCA will be conducting their 2020 Annual Conference online this year
Click here for details about the ASCCA 2020 Conference.
Cost of attending (online) is $15. You must register (buy tickets) to attend.
ASCCA also advocate on behalf of our sector in the halls of government and business.
---
On 18/11/2019 Computerpals made the ABC News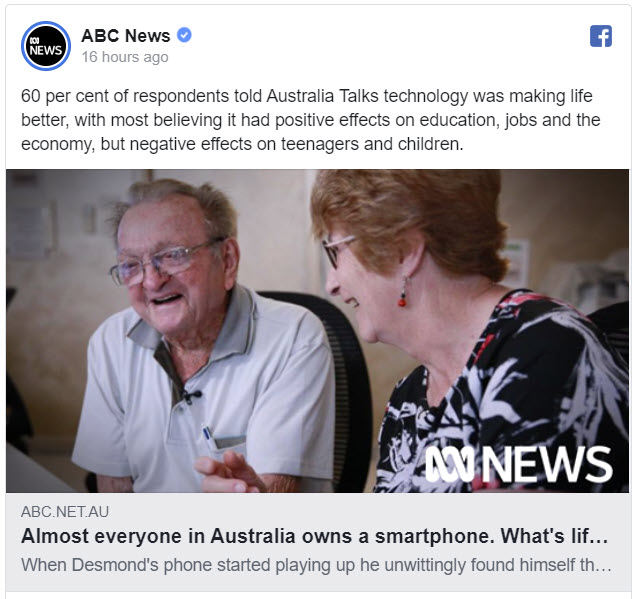 Click on the photo above to read the full story or the video below to watch the news clip.

---
Be Connected – What is it?
Be Connected is an Australia wide Federal Government initiative empowering all Australians to thrive in a digital world. There are online learning resources as well as a Network of community partners – the Be Connected Network – who offer in-person support so you can develop your digital skills and confidence.
ComputerPals for Seniors – Newcastle Inc. is a Be Connected Network Partner.
Be Connected classes are FREE
If you have a need to develop skills to use a computer/tablet or smart phone – these classes are for you. The training is offered in small groups to allow personalised learning and one-on-one coaching. Phone 4961 6576 (This will probably go to a voice mail – please leave your name & phone number – we will get back to you ASAP) to enrol in the program through us and get our support.
CLICK HERE for the Be Connected website for more information and scroll down for an introductory video
---
Coming up…ComputerPals Social Day – Saturday 7th November 2020 – Car Observation Run
Hi Members,
Well, 2020 has certainly turned our world upside down with COVID 19, and it is expected life as we knew it may never be the same. However, as the saying goes, 'life must go on', and we are doing our little bit by conducting another C'Pals Social Day.
In order to adhere to current COVID 19 protocols, we have organised a Car Observation Run, where attendees will be able to participate on the day with minimal personal contact. Our run will commence at McDonald Jones Stadium, travelling through Kotara, Kahibah, Redhead, Belmont, Valentine and on through Warners Bay to Speers Point Park where we will enjoy a picnic lunch. 
Details for the day are as follows;
Date: Saturday 7th November 2020
Meet: McDonald Jones Stadium, Lambton
Time: 9.30am (M/Tea – Darks Coffee at the Stadium)
         10.00am (approx.) depart on observation run  

Please note that this is not a race. You will be handed instruction sheets on the day showing the route to travel, and questions to be answered along the way. It is estimated that completing the run should take approx. 2 hours. Whilst a driver only entrant can participate in this event, it is recommended that an observer is present (assisting looking for clues/writing answers/saving time etc.), enabling the driver to concentrate more on driving. There are only a few clues that require leaving your car.
Please bring along picnic chairs, eats and drinks etc. so that we can 'social distance' ourselves at lunchtime, along with a hard folder (backing to write on) and pen/pencil. This outing should enable members to at least have some face to face contact with each other (observing social distancing) which we have not been able to do for most of this year.
Please click here to download the attendance form, complete it and send. If you have indicated your intention to attend and then for some reason cannot go, please advise the writer so that the whole group is not wasting time waiting to start the run.
Looking forward to catching up.  
---
At our second event for Get Online Week everyone enjoyed fun and learning. Games such as Have You Ever?, Guess the Icon, Where in the World? and Scavenger Hunt led onto the Be Connected Online Hobbies Topic where we explored Google Earth's Voyager and Arts & Culture. #getonlineweek
Good Things Foundation Australia
---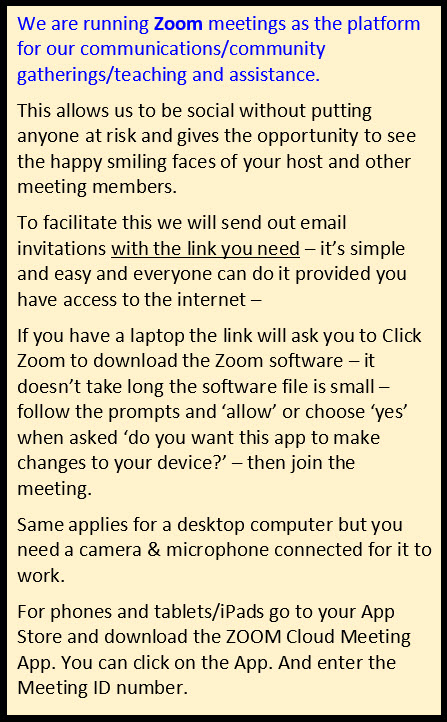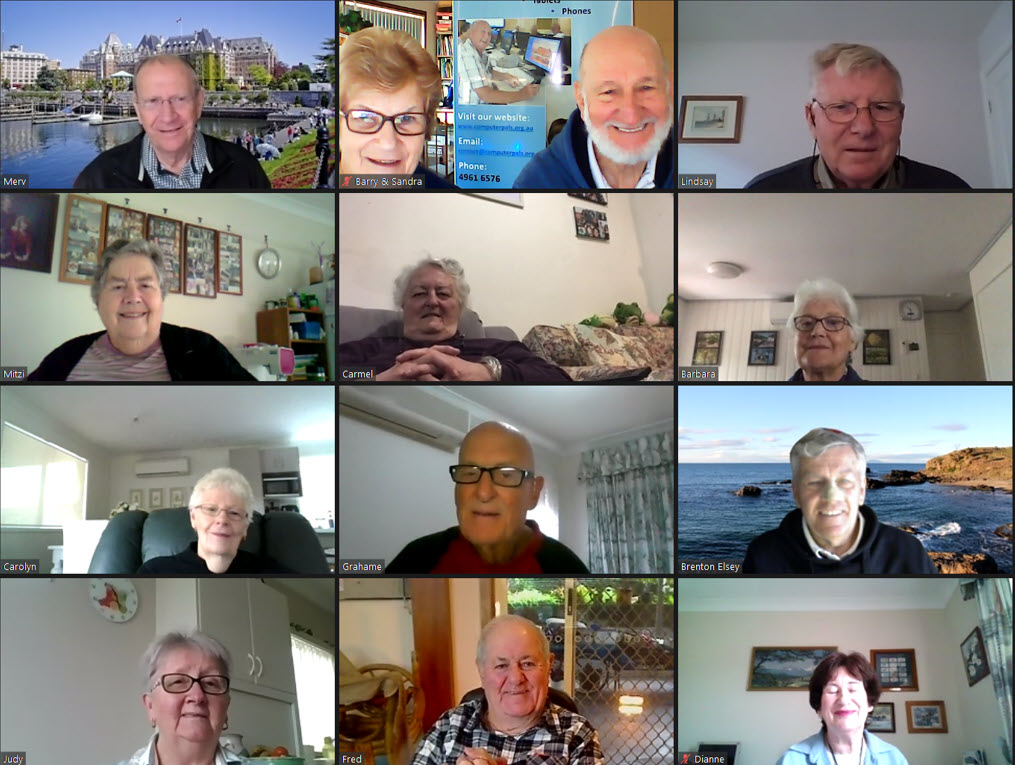 ---
Want to catch up with us on Facebook?    CLICK HERE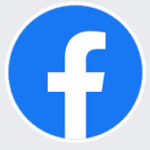 ---
STAY SAFE ONLINE…. (a video)
@EmpowerITS (click on the link) has put together this fantastic resource for Staying Safe Online, to help older Australians to take the next step in their online journey. A great initiative from Good Things Foundation Australia
---
Easy steps to secure your online information
Their Easy Steps Guide shows how you can better protect yourself from these threats and secure your accounts and devices, by stepping you through a six-day plan.
On completion of the Guide, you will have strengthened the security of your online accounts and your information. Click Here for their website.
---
Who Provides Our Training?
Tutoring is provided by a band of volunteers, prepared to share their knowledge and give their time, so that we can provide training at minimum cost. Being a member of ASCCA ( Australian Seniors Computer Clubs Association ), we have access to ASCCA's resources and links to other Seniors' Computing Clubs throughout Australia. If you would like to become involved as a tutor, or if you know someone who has the skills but is not yet a member, please contact our Tutor Co-ordinator.
---
SO WHAT DOES COMPUTERPALS OFFER?
We are conducting online sessions on Wednesday, Thursday and Friday mornings at 10:00 am (check your email or send us an email to enquire what's on and when and how to get onto the session).
---
---
ComputerPals Mission
Our mission is to educate seniors in the use of computers and other technology (phones & tablets) as a way of enriching their lives and making them more self-reliant. We bridge the generation gap and assist seniors to find ways to benefit the community through their collective experience and knowledge.
---